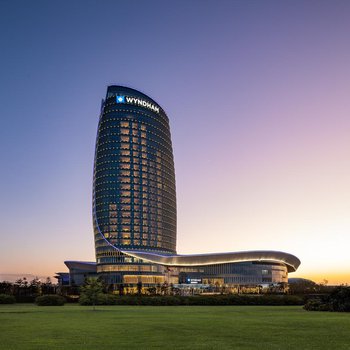 Wyndham Pingtan is located in the center of Pingtan International Tourism Island, seamlessly connected to Pingtan Ocean International Convention and Exhibition Center. It is a landmark building on Pingtan Island. Wyndham Pingtan has a advantageous location and convenient transportation. It is within walking distance of Pingtan Railway Station, about 9KM from Pingtan Channel Rail-road Bridge, and about 66KM from Fuzhou Changle International Airport. It is adjacent to Pingtan popular tourist attractions, such as Longfengtou Beach, East China Sea in Wonderland, Haitan Ancient City, Pingtan Island National Forest Park, etc.
Wyndham Pingtan has 353 rooms and suites feature panoramic floor-to-ceiling windows, offering a breathtaking view of the island.
The design of the hotel have great originality, it owns 5 different styles of restaurants and bars, The Feast Restaurant offers wide variety of seafood buffet, ZHEN Chinese Restaurant focuses on the new Style of Fujian and Cantonese cuisine including local private house cuisine, Taste Noodles Bar provides all over the country characteristic pasta, snacks, Eaze Lounge provides local characteristic tea, coffee and other drinks, nameplates, Tea House collects characteristic fine tea from Fujian around, Anxi Tieguanyin, Wuyi tea, etc.
A total area of over 4,000 square meters to cater for meetings and events of different sizes. Equipped with advanced and complete fitness and leisure facilities, in order to make your coastal journey to Pingtan be more wonderful.